A 'positive' element of having a malignant "mixed" glioma AND going through a major psychological burn-out  at the same time is that I learn to appreciate new things in life. I started a book club a few years ago because I wanted to read the "The Da Vinci Code" by Dan Brown and also have people to talk to about the book, who are not part of any  church. Book clubs are something I would encourage everyone to start who enjoy reading "good" books, cooking dinner together with friends and debating. One of our more recent books was by Fredrik Strage by the name of FANS.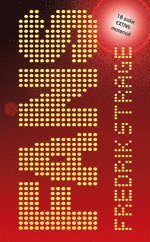 This is a wonderfully crazy book about the fine line between being a celebrity fan and a stalker. I can relate for there is also, without a doubt in my mind, a fine line between true wisdom and insanity (Strindberg, I have a different view on the Inferno; too bad you couldn't stick around to hear it). Foremost, this book introduced me to Morrissey. By chance, I shortly thereafter started paying attention to my husband's "insane" music and found a record called "you are the Quarry". Thank you Zaman, for below poetry is music to my ears.
America, your head's too big
Because America
Your belly's too big
And I love you
I just wish you'd stay where you is

Oh.. in America
The land of the free, they said
And of opportunity
In a just and a truthful way
But where the president
Is never black, female or gay
And until that day
You've got nothing to say to me
To help me believe

Oh.. in America
It brought you the hamburger
Oh well America you know where
You can shove your hamburger
And don't you wonder
Why in Estonia they say
Hey you big fat pig
You fat pig, You fat pig

Steely Blue eyes
With no love in them
Scan The World
And a humourless smile
With no warmth within
Greets the world
And I, I have got nothing
To offer you
No-no-no-no-no
Just this heart, deep and true
Which you say you don't need

See with your eyes
Touch with your hands, please
Hear through your ears
Know in your soul, please
For haven't you me with you now?
And I love you
I love you
I love you
And I love you
I love you
I love you
Speaking of the United States of America, I really love going to New York (NYC), even though JFK is almost as hard to get through these days as Ben Gurion and that's not even counting the fingerprint scan. I read somewhere recently that two young Swiss Swedish entrepreneurs have started a café in NYC called FIKA on 41w 58th st (remember Tony Blair's "education, education, education" speech on the way forward for Britain?). I was so happy to read this for I love having lunch and/or fika with cool friends. You know how there are a few Swedish influences in the English language? Smörgåsbord, ombudsman, husband ("husbonde"), Scarborough ("Skaraborg"), Rusholme ("Rusholmen?")?
Let me put it this way, the word FIKA should be the number one Swedish influence in the world. For me the word symbolises meeting (read understanding) a new perspective and version of the truth, something that I have spent some time doing as of late to help me get well again. I need genuine mentors in my illness and believe me, my problem is NOT currently the tumour. I hope I convinced you in earlier posts that I am medically in very good hands. This is something else and mentoring is king if you ask me. IKEA has its own version of this, namely, "affordable solutions for better living" and the customer if king. Yes, YES, Yeeeesssss!!! I hope one of my recent New Yorker friend doesn't mind me quoting the following he wrote in a travel diary or I shall quickly do away with it:
"…On Sunday, we took the Staten Island Ferry, went to Katz Deli where Meg Ryan did her orgasm scene in When Harry Met Sarry (they make totally orgasmic pastrami sandwiches on rye bread by the way) and went to the Iridium Jazz Club to see a band called Vital Information whose drummer Steve Smith is one of my heroes. Monday, we took in MoMA (Museum of Modern Art) and got some lunch before heading off to JFK via Charles de Gaulle back home to Brum…"
Speaking of FIKA in NYC, I heard through the grapevine that Monica Lewinsky and Kofi Annan (plus Swedish wife?) are frequent visitors to the café. I would just love to listen in on one of their conversations. If you let me have coffee with Koffii, I promise I won't say a word, for as Clinton put it "I did not have sex with that woman". Oh, and Billary, I genuinely hope you win (just to quote a great film in my own small words)  You are my "Living History", and you can be my mentor any day.